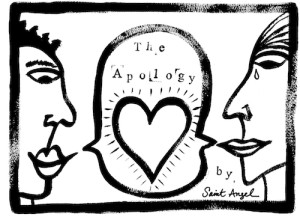 It is time for us to apologize to one another for the hurts we have caused one another, consciously or unconsciously, due to social oppression.  Social oppression refers to individual instances of conscious or unconscious prejudice, discrimination and cultural microaggressions, and to systemic and institutionalized inequality and injustice.
In this way, we can make amends and build bridges of love that will carry forth our society into a new place of peace.  Herein, you will be invited to partake in a journey of the soul, as this website is a place in which you can share your apology, forgiveness, dreams, and hopes for the future of hue-man-kind.
As The Apology is still in its early stages, please check this website for new developments in the coming weeks. It may take some time for these apologies to be conceptualized, written, and posted here, so please give us a chance to right these wrongs and don't give up.  I am reaching out to groups and individuals who would like to, and feel called to, be part of this effort.
In the meantime, should you wish to contact the developer/organizer of this website, Elana Felice Stanger, L.C.S.W., at Elana@diversityarts.org and at www.DiversityArts.org, she welcomes your thoughts, suggestions, questions, ideas, and concerns.
Thank you!